Amapiano Artists React To Nigerian Star Asake's Amapiano Album. Afrobeats is on an ascension and Nigerian artists are currently exporting Amapiano to other parts of the world. There's a possibility that the roots of Amapiano might be erroneously attributed to Nigeria instead of South Africa from where it was created.
On Sunday, 11th September 2022, Bandz posted the screenshot of a post of DBN Gogo where she shared her concern over what can be easily inferred as the continuous dominance of Amapiano by Nigerian artists. The post was likely motivated by Asake's recently released album 'Mr. Money With The Vibe' which had a decent selection of Amapiano songs. "We are in big trouble if we don't start moving collectively and forcing our way into the right doors. Lol, it's gonna be taken right in front of us. And don't get me wrong, his album is so good. iyho. That's the problem," she said.
BN shares what she considers the urgency of the threat Amapiano is facing in the hands of Nigerian artists She further opined that it was time for South African artists to start moving collectively and muscling their way into the right doors if they are to get their dues for the genre they created. Bandile, one half of Major League calls Asake Biggest Ampiano of the Year: While reposting DBN's post, Bandz of the famous South African DJ group Major League also shared his concerns. "I have been saying this for long but echoes gonna be the death of us," he says in the post on his Instagram Story.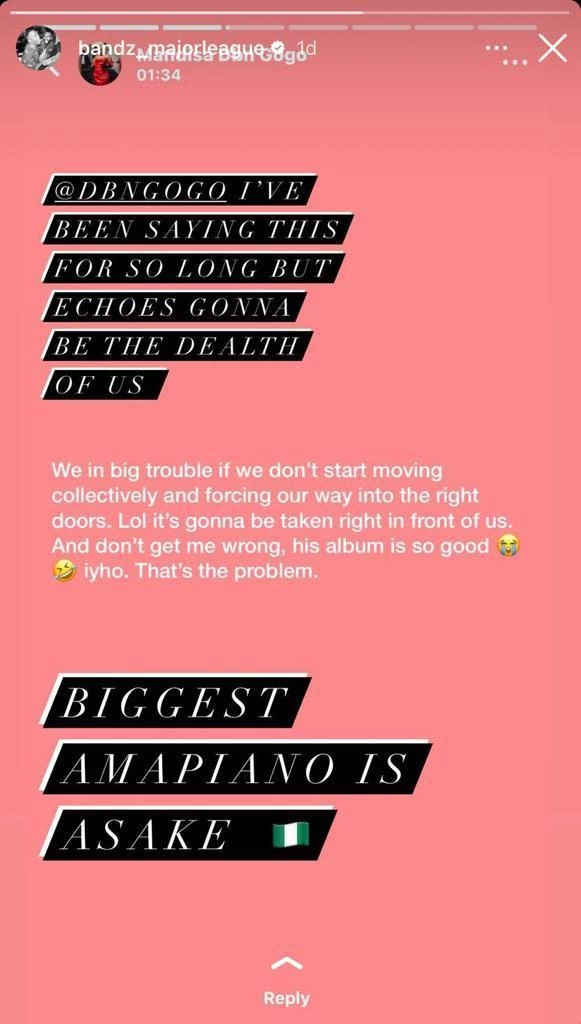 Maphorisa on the other hand shared a video of himself applauding Nigerian artists doing amapiano. He said he is also doing Nigerian music gene, Sumba, and that he is the first person to play it at Konka, which has now made other DJs play it too.